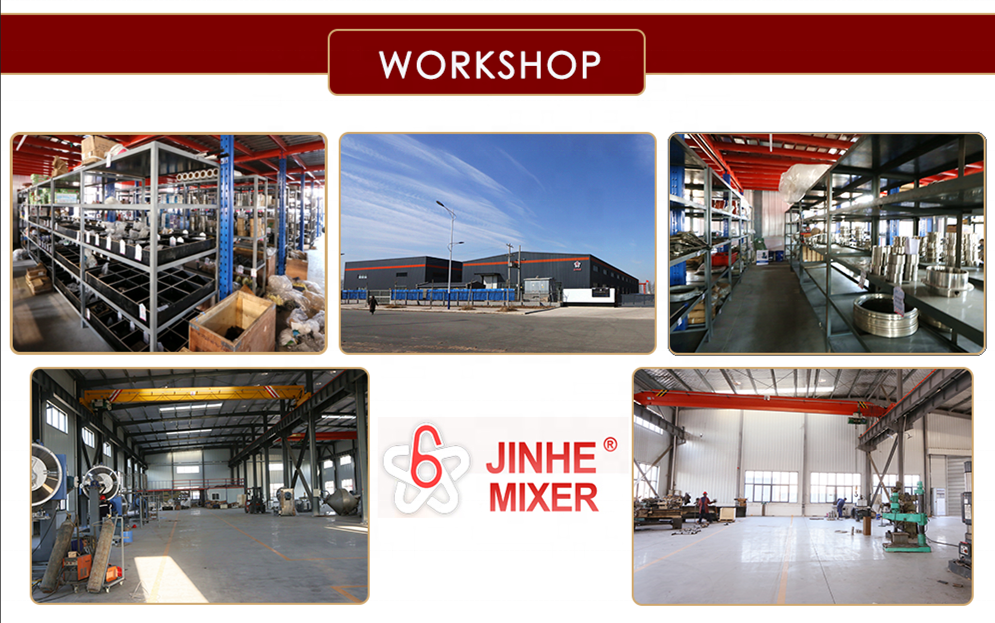 JINHE® JHS Double Conical PVC plastic powder granule Mixer

JHS double conical plastic powder granule mixer machine is used to combine multiple small batch materials into one batch materials (batching) in order to guarantee consistent performance of products.
Because this situation needs huge capacity, operate stably, safety and convenience, JHS double cone plastic PVC powder blender is adapt to the task.
JHS PVC conical blending machine has its unique advantage that we design 8 huge impending spiral fixed blades so as to improve mixing efficiency. When the barrel turning, dry powder turning over, the spiral blades could make dry powders shunt around. Therefore, this new principle greatly promotes mixing efficiency.
JINHE®JHS Double cone PVC mixing machine have 3 types.
One is chemical type: This one use plastic spray processing to treat surface.
Another is pharmacy type: All of the surface is stainless steel and allowed the GMP standard.
The other is Food Type: The food powder mixer machine also allow the GMP standard.
1st
It's applied to the mixing of dry powders in industries of powder metallurgy, Pharmaceutical powder, Food additives powders,
Cosmetic powder, magnetic materials, precious metal powder, non-ferrous metal powder, chemicals, abrasives,
foodstuff,feed,dyestuff ,Laboratory and so on.
2nd
Due to its high mixing efficiency, it is particularly suitable for mixing powder which demand strict requirement.
3rd
Suitable for fine powder, superfine powder, powder with big difference in specific gravity.

JINHE® JHS Double Conical Blending Mixers have already used in lots of famous Corporation.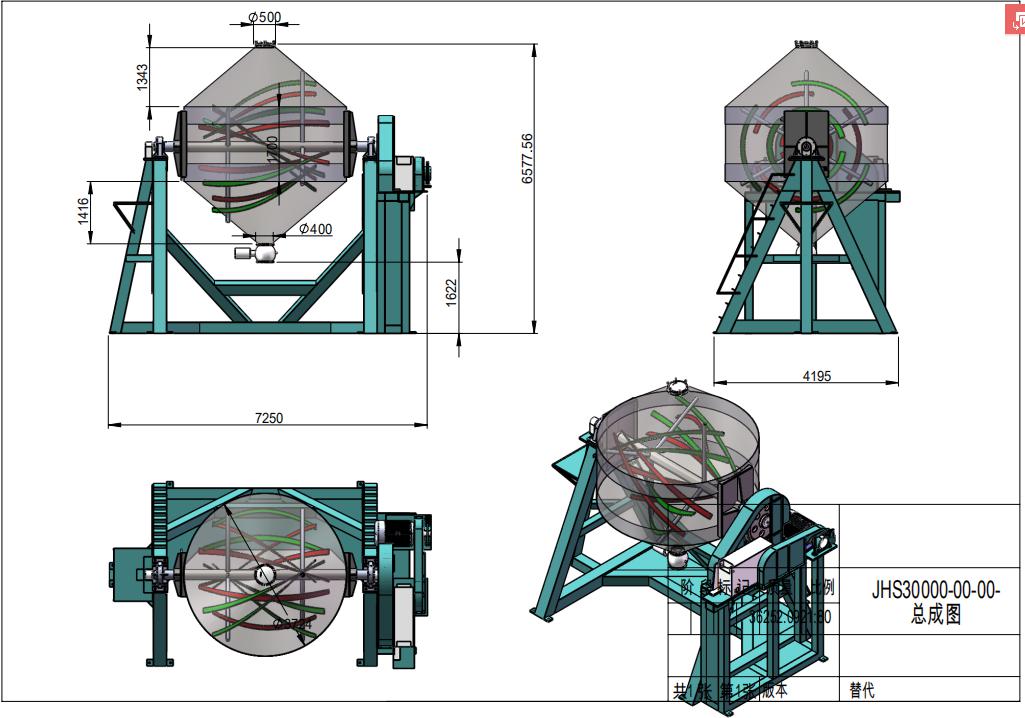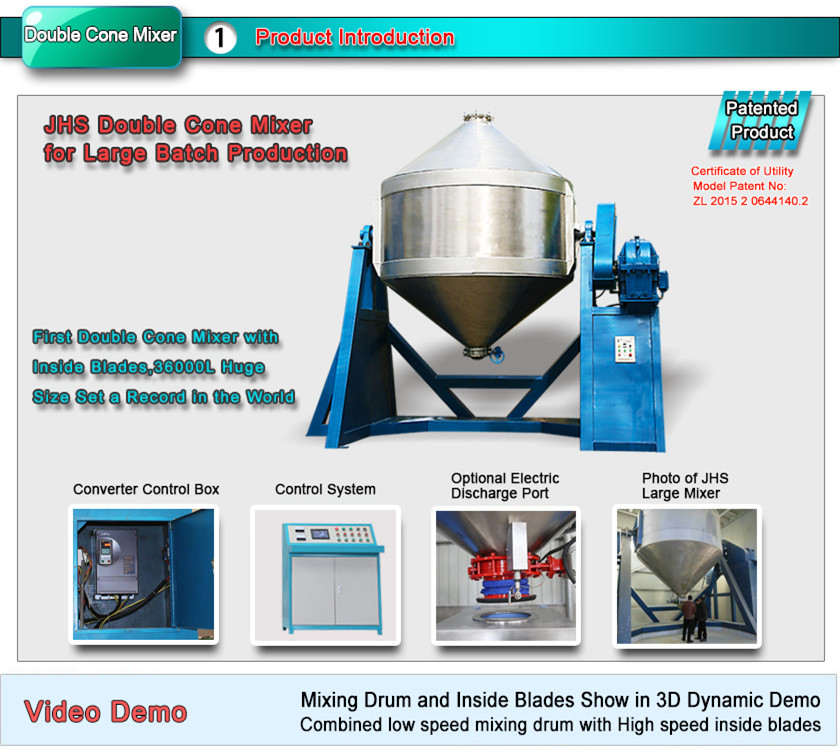 ?Youtube Address: www.youtube.com/user/asiamixer

JHS Double Cone Mixer with unique inside helical blades,mainly used in compounding small batches products into large batches,to ensure its consistency and quality.This task requires the mixer with big capacity, stable working and easy to use.But have low requirement of the mixing uniformity.So we designed JHS mixer with simple single mixing system to reduce the cost.
In order to improve the mixing efficiency,we set 4-8 sets full size helical inside the mixing drum.
Application:
1. Dry powders or half dry powders,mainly used in Powder Metallurgy,Chemical,Rare Earth,Phamaceutical,Food Industry.
2. Special for large batches,heavy tonnage products mixing.
3. Special for compounding small batches products into large batches to ensure its consistency and quality.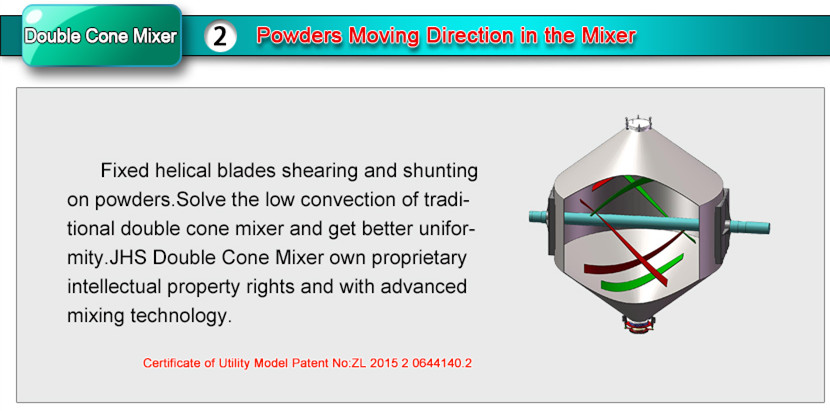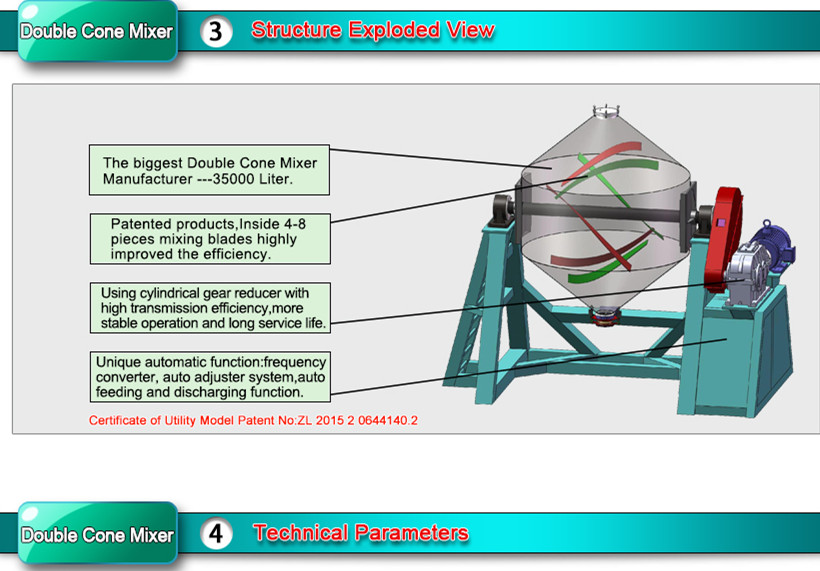 Model

Barrel
Capacity
(L)

Max Loading Capacity
(L)

Thickness
(mm)

Barrel Speed
(r/min)

Blades Speed
(r/min)

Motor Power
(kw)

Size

(mm)

JHS2000

2000

1050

6

10

10

12

3100x1550x2600

JHS3000

3000

1450

6

8

8

18

3500x1780x3000

JHS5000

5000

2400

6

8

8

25

4100x2100x3300

JHS10000

10000

6000

8

4.4

4.4

75

4880x3200x4407

JHS15000

15000

9000

10

4.3

4.3

90

5384x3374x4878

JHS30000

30000

18000

12

4

4

200

5780x3390x5833

Size among 3000~35000L can be customized.