Graphite Vacuum Furnace Horizontal Type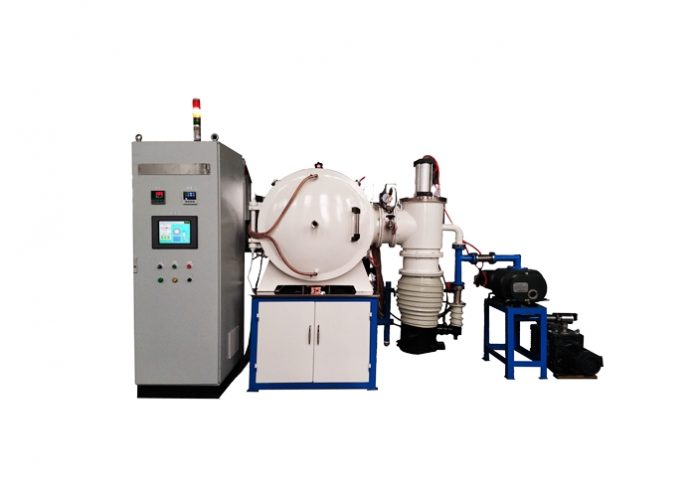 Vacuum Graphite Furnace Horizontal Type up to 2200℃
The ultra-temperature vacuum graphite furnace is a performance intelligent heating furnace, adopt advanced temperature measurement, temperature control, intelligence, new material, and furnace chamber design. This furnace is mainly used for high-temperature treatment of materials in a vacuum or protective atmosphere environment.
Graphite-Based Furnace: A High Level of Thermal Efficiency
The graphite wafer is an excellent material which allows operation at very high temperatures. It has low density, reduced weight and modest thermal capacity. It creates the ideal black body conditions (emissivity about 1) inside the heating chamber for obtaining high uniformity.
Graphite furnace chambers are easily repairable and suitable expedients can be applied to guarantee a long life. These include applying a sacrificial layer made of CFC or with a graphite laminate, protecting the wafer both against the effects of the high temperature (deformation – expansion), and gas erosion during the load cooling phase. Wafer thickness depends on the maximum operating temperature.
A furnace with this type of heating chamber is the best solution for vacuum treatments.
Vacuum Graphite Furnace Horizontal Type Features:
Graphite heating element, Max. temperature can be 2200℃.
The insulation furnace chamber adopts import graphite soft felt and hard felt.
Furnace shell inner layer is stainless steel, the outer layer is carbon steel, double layers water-cooling structure.
Furnace door adopt front open and back open, easy to load, and unload material.
Furnace shell has an observation hole, can see the heating situation in the chamber.
Adopt a W-Re thermocouple and infrared thermometer to measure temperature, thermocouple goes in and out automatically.

Technical Parameters

MAX. VACUUM:
0.0667Pa
MAX. TEMPERATURE:
2200℃
CAPACITY:
12 ~ 324L
FURNACE CHAMBER:
Graphite Felt
HEATING ELEMENT:
Graphite
OBSERVATION HOLE:
Yes
CONTROL:
PLC
THERMOCOUPLE:
W-Re Thermocouple
MAX. HEATING RATE:
20°C /min
TEMPERATURE ACCURACY:
±1℃
TEMPERATURE UNIFORMITY:
±5℃

| | | | | |
| --- | --- | --- | --- | --- |
| Model | Heating Zone | Temperature | Power | Voltage |
| JH-GHM-223 | 200*200*300mm | 2200℃ | 45kW | 380V |
| JH-GHM-334 | 300*300*400mm | 2200℃ | 60kW | 380V |
| JH-GHM-446 | 400*400*600mm | 2200℃ | 90kW | 380V |
| JH-GHM-557 | 500*500*700mm | 2200℃ | 150kW | 380V |
| JH-GHM-669 | 600*600*900mm | 2200℃ | 180kW | 380V |