Dental Burnout Compact Zirconiab Dental Furnace Lab Dental Furnace
Best tool for dental laboratory and dentist, zirconia/ceramic dental sintering.

Zirconia Sintering Furnace
This Zirconia sintering furnaces is perfectly suited for sintering zirconia crown. The special high purity Molybdenum disilicide heating elements offer best possible protection against chemical interaction between charge and heating elements. The zirconia crown are positioned in ceramic sintering trays. Up to three sintering trays can be stacked into the furnace.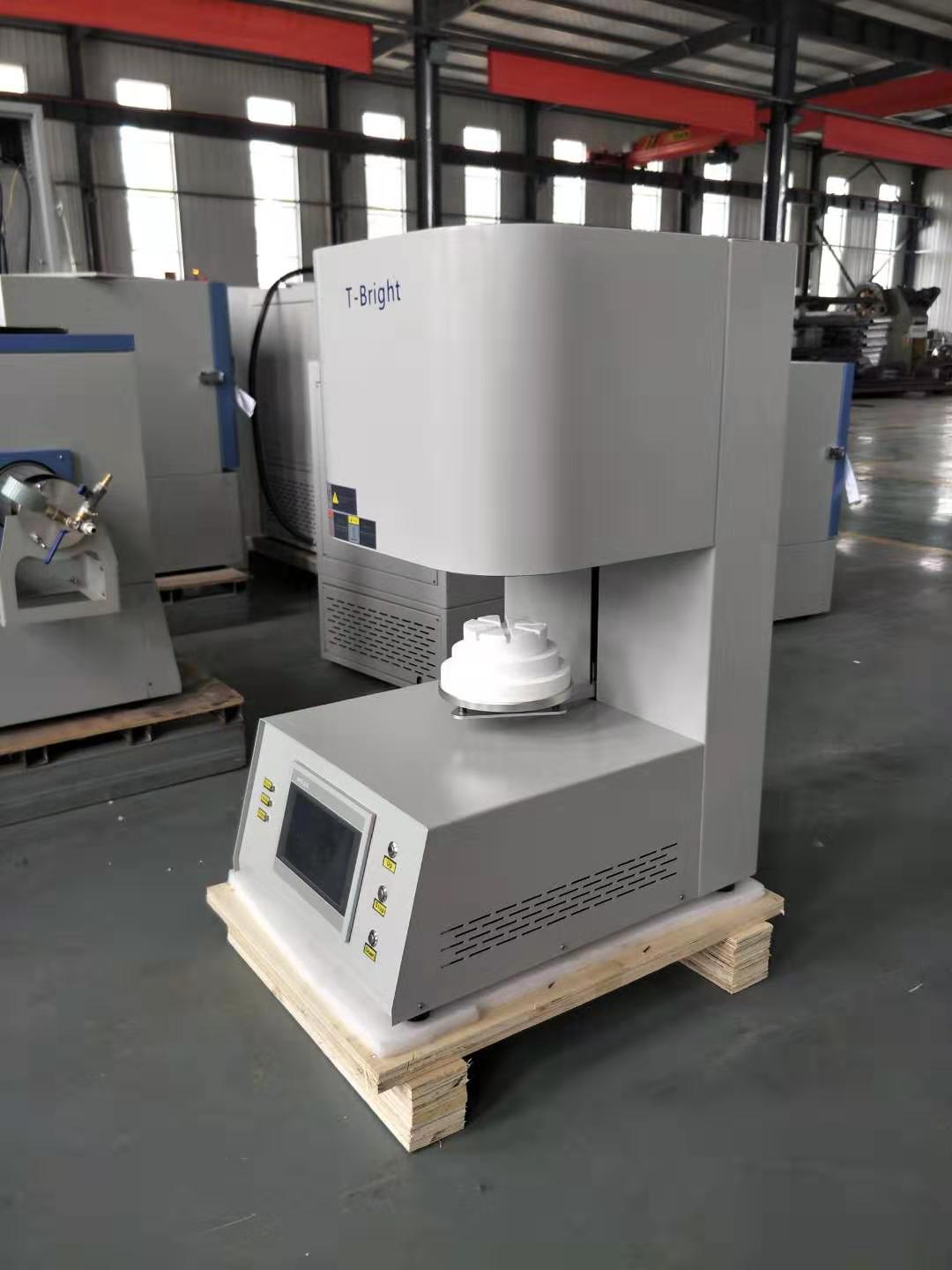 FEATURES:
1. T-Bright is specially designed for the sintering of small batch samples of zirconia denture crystal, structural ceramics, and polymer ceramics.
2. Max temperature: 1700℃. Working temperature: 1600℃
3. Automatic program for heating, platform moving. It's very convenient for dental crown firing.
4. Touch screen panel which can store 500pcs different programs
5. 30 programmable segments for precise control.
6. Built in protection for over-heated and broken Thermal couple.
7. 6pcs high purity MoSi2 heating element can achieve 30℃/min fast heating rate.
8. 1 year limited warranty (Consumable parts such as thermocouple, o-rings and heating elements are not covered by the warranty, please order the replacements at related products below.)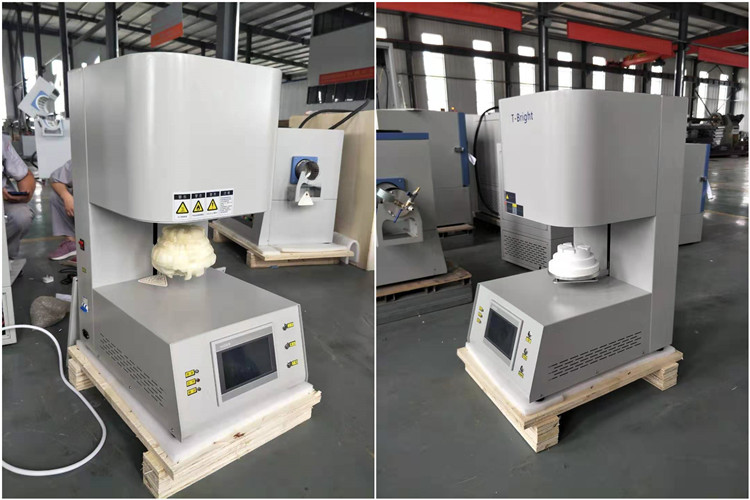 Technical Specifications:
chamber size
Dia100xH100mm
Max. temperature
1700 ℃ (<2hour)
Working temperature
800-1600℃
Temperature controlling
● PID automatic control via SCR (Silicon Controlled Rectifier) power control with phase angle fired, current limiting resistor.
● Touch screen panel which can store 30pcs different programs
● Built in PID Auto-Tune function with overheating & broken thermocouple broken protection.
● Over temperature protection and alarm allows for operation without attendant.
Temperature accuracy
± 1℃
Temperature Uniformity
± 5℃
Heating rate
0-30℃ /min
Thermocouple
B type (Pt-Rh to Pt-Rh) with 99.7% purity Alumina tube
Heating element
U type MoSi2 heating elements
Zirconia Sintering Furnace Chamber
Zirconia Sintering Furnace Three layers of ceramic fiber insulation materials
● First layer: 1800℃ ceramic fiber board
● Second layer: 1600℃ ceramic fiber board
● Third layer: 1260℃ ceramic fiber board
Furnace structure
Double layer steel casing with dual cooling fan, surface temperature below 60℃
Furnace door
● Elevator opening with platform
● Power cutting off when furnace door open
Outer dimension
About 550X420X810mm
Working voltage
220V, 50HZ/60HZ, 1 phases (As per your order)
Rated power
2KW
Weight
Net Weight: about 90kgs
Gross Weight: about 110kgs
Warranty
● One year limited warranty with lifetime support. (Consumable parts such as heating elements and crucibles are not covered by the warranty, please order the replacement at related products)
● ATTENTION: Any damages caused by the use of corrosive and acidic gases are not under the coverage of One Year Limited Warranty.
Certifications

CE
Application Notes

Using Attentions
● Cooling rate of this dental zirconia sintering furnace shall also not exceed 10 °C /min.
● Toxic or explosive gases are not recommended for use with this furnace without necessary safetycontrols and supervision.
● Small cracks may appear on the surface of the refractory ceramics over extended use. This is a normal occurrence and the cracks may be repaired with alumina coating.
● Refractory door block must be inserted before closing door.

Optional Spares for T-Bright Zirconia sintering furnace

1800 type MoSi2 heating elements
B type thermocouple
Sinterinng trays
Zirconia beads